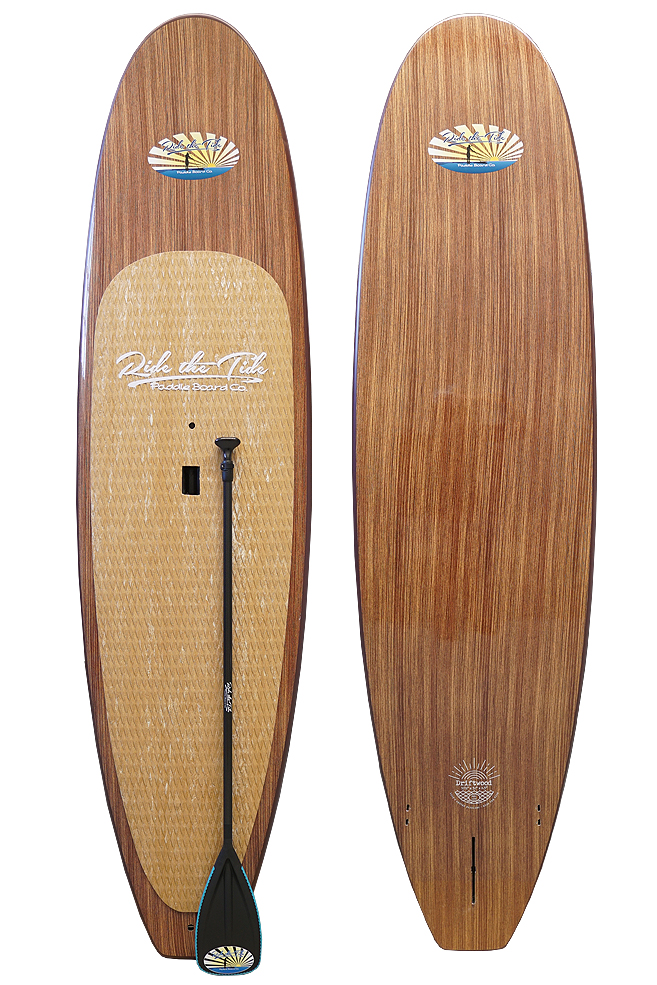 Our all rounder Classic Timber range of paddle boards are best for flat water, cruising and surfing. A great all rounder board with our distinct nose and shape, this board is maximum on stability and buoyancy. A great beginner board that you can take to the next level in your own time.
SUP PACKAGE INCLUDES
BOARD STORY
Our NEW 2019 SUMMER edition to our Retro SUP range is our DRIFTWOOD stand up paddle board. Decked out in a dark timber design, both front and back, our ARMOUR-Tech Driftwood SUP is another true classic addition to our SUP line-up.
Finished with clean rails and featuring our signature sandy textured deck pad our Driftwood SUP will be the hottest thing on the beach and out on the water this Summer!
Using our latest and most innovative technology - ARMOUR-Tech - is a step above the rest in construction in our popular all-round, entry level series of boards.
Adapting Vacuum Formed Technology using an advanced ABS shell casing, our newest range of ARMOUR-Tech boards are 6x tougher than an epoxy fibreglass board.
• Impact and abrasion resistant, our AMOUR-Tech paddle boards boast a Kevlar integrated rail guard offering unbeatable toughness.
• Ultra-durable and lightweight, our ARMOUR-Tech SUPS are responsibly crafted using sustainable, reclaimed materials. Excess material is then repurposed creating less waste in production.
• Efficient and smooth in flat water and great in small surf, our all-round shape and wide planing nose combined with fuller volume rails offers the best stability and greater buoyancy.
• Lightweight and a breeze to carry with our ergonomic ledge grip handle.
• Beautifully hand crafted completely wrapped in exotic wood veneers and a soft timber grain designed diamond deck grip.
ABOUT RIDE THE TIDE
Ride The Tide Paddle Board Co. has been a pioneer of Classic Timber Paddle Boards since 2013 evolving to encompass our core brand of a coastal lifestyle built on simplicity and a laid back attitude. Life should never be too serious. Join our tribe, kick back and relax.
Our unique Ride The Tide traditional longboard style and attention to detail complements our quality, construction and competitive prices.
We raise the bar when it comes to producing the best looking SUPS in the world making choosing your ideal board easy.
CONTACT US
If you need any help in choosing the right stand up paddle board or have any questions, please call Dean anytime on 0403 549 702.
At Ride The Tide we are all about making your purchase easy and ensuring you buy the right board for you. We are always happy to help.
KEY DETAILS
✔️USAGE: Flat Water, All Round, Surfing.
✔️DIMENSIONS: 10'6 x 32" x 4.5"
✔️RIDER CAPACITY: 100kgs
✔️VOLUME: 196L
✔️BOARD WEIGHT: 14kgs
✔️CONSTRUCTION: EPS Foam Core + Timber Stringer + ARMOUR-Tech
AUSTRALIA WIDE FLAT RATE* SHIPPING
• QLD - $100
• NSW / ACT - $150
• VIC - $150
• TAS / SA / WA - $200
• NT - $300
Purchasing 2 or more boards? Call us on 0403 549 702 for multiple discounted freight rates.
10 ft. 6 Driftwood SUP Package
$850.00
$740.00
(You save $110.00)
or make 4 interest-free payments of fortnightly with
More info