Bamboo Adjustable Carbon Paddle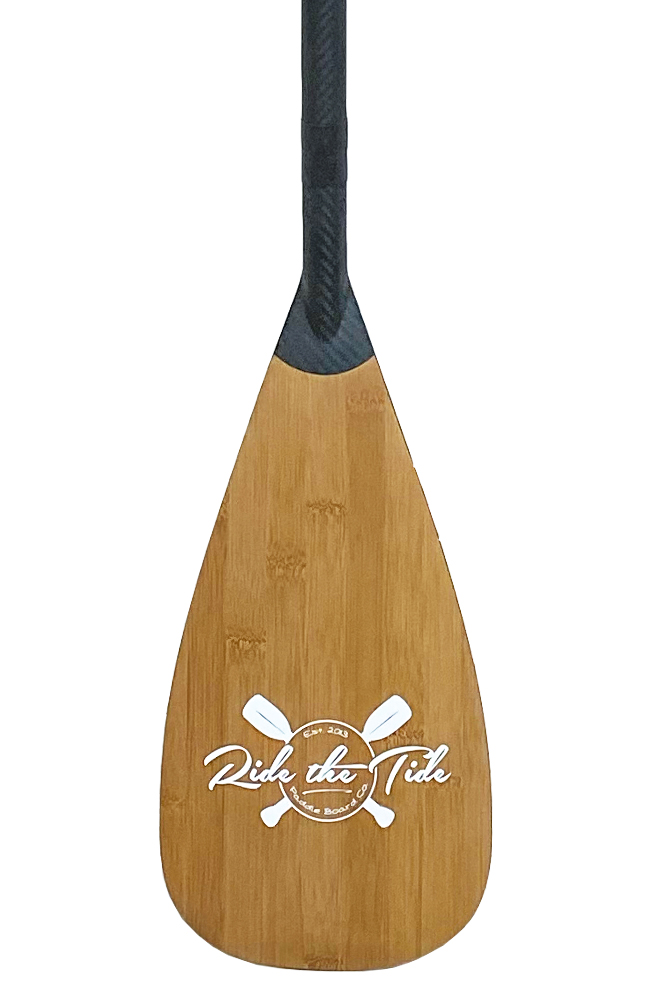 BAMBOO ADJUSTABLE CARBON PADDLE
A great addition to our Ride The Tide SUP Paddles is our adjustable bamboo carbon paddle featuring a full carbon shaft and bamboo blade made from durable, lightweight 4k carbon.
Designed for perfect performance in flatwater and small waves, this paddle is suitable for sharing with family and friends with its adjustable shaft.
A great all-rounder paddle, the RTT Adjustable Bamboo Carbon SUP Paddle comes with a foam filled moulded handle and reinforced joins.
Delivering good propulsion through the water, our carbon adjustable paddle is a very quick, light-weight and strong paddle.
KEY DETAILS
✔️CONSTRUCTION: Full lightweight 4k carbon shaft and custom blade
✔️KEY FEATURE: Adjustable
✔️COLOUR: Custom Ride The Tide Bamboo Blade & Black Carbon Shaft
✔️MAXIMUM PADDLE HEIGHT: 220cm
AUSTRALIA WIDE FREE SHIPPING ON ACCESSORIES
Click here for our delivery information.
ABOUT RIDE THE TIDE
Ride The Tide Paddle Board Co. has been a pioneer of Classic Timber Paddle Boards since 2013 evolving to encompass our core brand of a coastal lifestyle built on simplicity and a laid back attitude. Life should never be too serious. Join our tribe, kick back and relax.
Our unique Ride The Tide traditional longboard style and attention to detail complements our quality, construction and competitive prices.
We raise the bar when it comes to producing the best looking SUPS in the world making choosing your ideal board easy.
CONTACT US
If you need any help in choosing the right stand up paddle board or have any questions, please call Dean anytime on 0403 549 702.
At Ride The Tide we are all about making your purchase easy and ensuring you buy the right board for you. We are always happy to help.
Bamboo Adjustable Carbon Paddle
$360.00
$340.00
(You save $20.00)
or make 4 interest-free payments of fortnightly with
More info