06-03-2018 / BOARDS
Best Places To SUP
Wattamolla Beach & Lagoon, Royal National Park, NSW
Let's Explore!
If you're looking for a new SUP spot for Stand Up Paddle Boarding in NSW then you should check out Wattamolla Beach and Lagoon located in the Royal National Park. A perfect mix of kid friendly still water of the lagoon, waterfalls, beach and ocean. Just over a one hour drive in good traffic from Sydney, visiting such a naturally beautiful location alone is worth the trip and even better with your SUP board.
Cabbage palm trees, cute little swimming inlets and wide open beach make Wattamolla the perfect place for a midweek wind down with your Stand Up Paddle Board. A beautiful combination of beach and freshwater lagoon, separated by a sandbar, within the Royal National Park with it's own waterfall.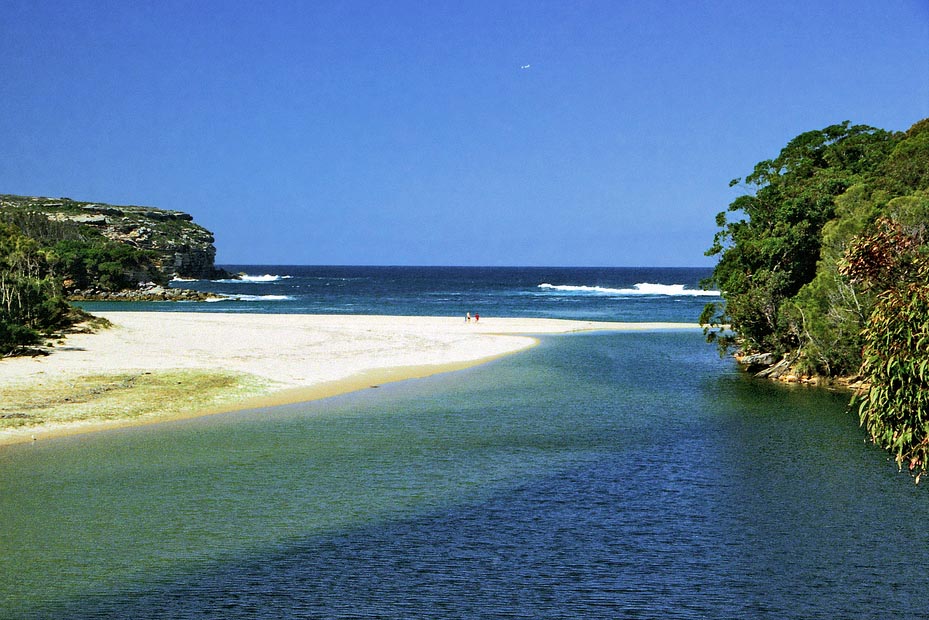 A popular family destination, Wattamolla Beach can get quite busy on weekends and during school holidays. The calm waters of the lagoon at Wattamolla make it ideal for young children to swim in, one of the main reasons for its popularity with parents and families.div>
This beautiful beach and lagoon is located in Wattamolla cove on the eastern side of the park, between Garie Beach and Marley Beach. It is accessible by car from Audley via Sir Bertram Stephens Drive and Wattamolla Road, or from Waterfall train station via McKell Avenue onto Sir Bertram Stephens Drive. The roads are sealed and easy to drive, and a 50-space car park is provided and has only a five-minute walk down a narrow path to the beach.
Although the car park is huge, come weekends and especially public holidays finding a spot can be near impossible. Your best bet is to visit midweek if you can or get there early to enjoy your paddle. Wattamolla is only open to visitors during the Royal National Park's operating hours between 7:00am and 8:30pm daily.
Arriving at the beach is an experience in itself, as salt water laps at the beach on one side and the fresh water lagoon peppered with people playing in the shallows. Trees line the beach offering shade to those not wanting to get wet, and white sand appealing to those with an appetite for sunlight and small inlets for swimming as well as open beach. Sheer cliffs frame the lagoon, which is perfect for toddlers and children and will be great adventure out on your Stand Up Paddle Board for the whole family.
The unpatrolled beach, is clear and sparkling most days, and if you're lucky you might even see a seal or two swim into the cove to say hi. But be careful of the curious bluebottles, that often line the shore in summertime.
For those wanting to explore some more off the SUP, the beach is surrounded by coastal walks belonging to a 26 kilometre Coast Track. If you're in the mood for a picnic there are free BBQ's and amenities located next to the car park. Note, there is a fee of $12 for car park entry to the national park, and bringing your own water is recommended.