Limited Edition Matt 10 ft. 6 Woody Original SUP Package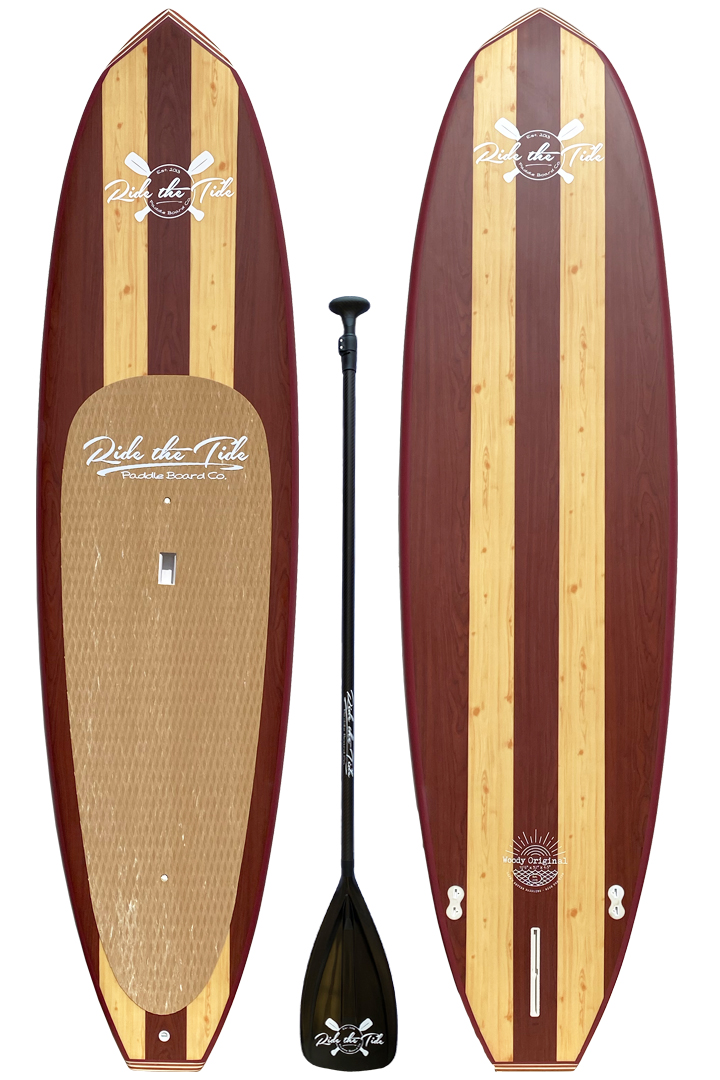 10'6 WOODY MATT ORIGINAL PADDLE BOARD PACKAGE
Our Classic Timber Range is the BEST VALUE SUP Package in Australia!
Our all rounder Classic Timber range of paddle boards are best for flat water, cruising and surfing. A great all rounder board with our distinct nose and shape, this board is maximum on stability and buoyancy. A great beginner board that you can take to the next level in your own time.
SUP PACKAGE INCLUDES
BOARD STORY
Our fresh new twist to our Classic Timber range is the subtle yet stunning Matt finish creating a total cool new look to our boards. Welcome to our Limited Edition Matt Finish. Only available in 10'6", the Matt Finish Woody Original is a limited run and pops like you wouldn't believe!
Our Woody Original board series is one of the best paddle boards on the market combining classic design and function all in one. Art is life and we have captured the old-school nostalgia from the early days of wave riding.
With traditional contrasting light and dark timber veneers and true timber nose and tail features our paddle boards are a salute to the days when life was simple.
• A versatile paddle board performing both beautifully in flat water, rivers, open ocean and small to medium surf conditions.
• Lightweight and a breeze to carry with our ergonomic ledge grip handle.
• Double concave hull providing increased paddle efficiency and stability through the water.
• Beautifully hand crafted completely wrapped in exotic wood veneers and a soft timber grain designed diamond deck grip.
KEY DETAILS
✔️USAGE: Flat Water, All Round, Surfing.
✔️DIMENSIONS: 10'6" x 32" x 4.5"
✔️RIDER CAPACITY: 100kgs
✔️VOLUME: 194L
✔️BOARD WEIGHT: 11kgs
✔️CONSTRUCTION: EPS Foam Core + Timber Stringer + 3 Layers 6oz and 4oz Dura-Bond Fibreglass + Additional Fibreglass in Standing Area + Machine Baked Epoxy Casing.
✔️UPGRADE PADDLE OPTION: Upgrade at time of purchase to Full Carbon Bamboo Adjustable Paddle - $199 Extra (Save $140).
✔️INCLUDE PROTECTION PACK: Include at time of purchase and add our Protection Pack to protect your SUP package which includes board bag, paddle bag, leg rope, rail tape & bonus trucker hat - $250 Extra (Save $150).
AUSTRALIA WIDE FLAT RATE* SHIPPING
Click here for our flat rate shipping prices and other delivery information.
ABOUT RIDE THE TIDE
Ride The Tide Paddle Board Co. has been a pioneer of Classic Timber Paddle Boards since 2013 evolving to encompass our core brand of a coastal lifestyle built on simplicity and a laid back attitude. Life should never be too serious. Join our tribe, kick back and relax.
Our unique Ride The Tide traditional longboard style and attention to detail complements our quality, construction and competitive prices.
We raise the bar when it comes to producing the best looking SUPS in the world making choosing your ideal board easy.
CONTACT US
If you need any help in choosing the right stand up paddle board or have any questions, please call Dean anytime on 0403 549 702.
At Ride The Tide we are all about making your purchase easy and ensuring you buy the right board for you. We are always happy to help.
Limited Edition Matt 10 ft. 6 Woody Original SUP Package
$1,630.00
$1,090.00
(You save $540.00)
or make 4 interest-free payments of fortnightly with
More info